Here's a news alert.  You may already know that the Bureau of Automotive Repair issued a letter on January 7, 2015 , that, beginning March 9, 2015, SMOG check stations must use an OBD inspection system to test the following vehicles:
2000 and newer model-year gasoline power vehicles (unless over 14,000 lbs. GVWR or those without OBDII)
1998 and newer diesel powered vehicles and
All hybrid vehicls
Other restrictions and specifications apply (read the official notice, here).
Bureau of Automotive Repair Citations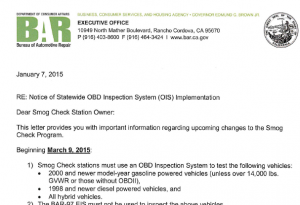 The Bureau of Automotive Repair has started issuing Citations to Automotive Repair Facilities for failure to use the DAD system for a 2000 and newer vehicle. Despite being told by BAR personnel the station would have a sixth month time frame for implementation, the BAR sent a letter on January 7, 2015 giving a hard date of March 9, 2015 for OIS mandatory use.
This left a little over 2 months for facilities and technicians to become familiar with the new program.
There is also the possibility that technicians did not receive notice of this letter from the facility they were employed at.
Got Questions? Been Issued a Citation by the BAR?
If you were issued a citation for failure to use the need OIS DAD system, contact an Automotive Defense Specialist Attorney to analyze your options. You can call us at
800-561-9860
, or
email us
. You cannot afford a citation with the threat of losing STAR or being unemployable in the future with a citation.