Auto shop mechanics have a reputation for being tough. Maybe it's the Hollywood stereotype of the tattooed "grease monkey" with muscular arms working on muscle cars. They are portrayed as strong dudes with oil in their veins ready for a fight. In reality, we know many auto technicians are just regular guys and gals who like working on cars.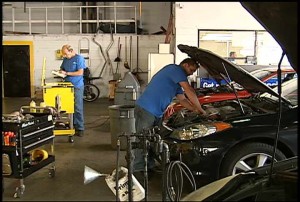 Even if you are considered "tough" you probably think picking fights is a waste of time. Still, you probably won't back down if the fight is brought to you.
A Bureau of Automotive Repair Citation
If you've received a Bureau of Automotive Repair citation, you may be ready to use your muscle. It can feel frustrating to be surprised with a letter from the Bureau of Automotive Repair. Using a "street fighter" mentality and trying to handle it alone may not be in your best interest. You need someone who knows how to legally battle a Bureau of Automotive Repair citation. The smartest fighting stance is to roll up your sleeves and contact an expert automotive defense lawyer. We've been in the legal ring with BAR for many years and understand how they operate!
If you have received a STAR program citation, a SMOG interim suspension notice or any other citation from the Bureau of Automotive Repair it's a good idea to get your own lawyer with real legal "muscle." The BAR has a team of highly skilled lawyers who are ready to spar in court. If you have been accused of auto repair fraud, they don't care who's in the right. It's their job to win. Trying to go it alone can have you wasting money and time. Worst case scenario, an auto shop can get a STAR/SMOG suspension notice which is the one two punch that can ruin a business. So if you're going to legally fight the BAR, fight smart.
Auto repair mechanics may be experts with muscle cars, but a legal dispute requires another type of strength. Our automotive defense attorneys know how to legally tussle with the BAR. Our only job is helping auto repair owners and SMOG check stations fight California Bureau of Automotive Repair citations and accusations. When your business is in jeopardy, Automotive Defense Specialists will take legal action to protect your livelihood. Those are fightin' words!