We have a confession to make, we love a good James Bond film. No matter what situation Agent 007 is gets in, he manages to use his various talents to get out. Casino Royal is a great example of Bond seeming to lose it all, yet come back from sure disaster. In the film, Bond plays a high-stakes game of Texas hold 'em with the villain, Le Chiffre.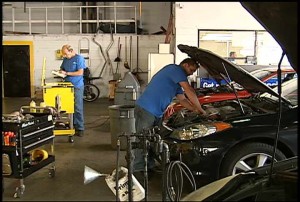 At the first poker game, Agent 007 is confident he can win. Well, he doesn't and loses over 14 million dollars. Eventually he gets another chance to win it all back, but not without a lot of personal self-doubt and reflection (and a few bodies left along the way).
A Bureau of Automotive Repair Accusation
If you're an auto repair shop owner and you've received a Bureau of Automotive Repair letter of accusation, now is not the time to gamble. Even if you think you can win against a SMOG/STAR citation, going it alone isn't a safe bet. It's important to have a defense attorney like us on your side, one who is an expert in administrative law in California and actions vis-a-vis the state Bureau of Automotive Repair. Why? Well, unlike the savvy Mr. Bond, you only get one chance in court. If you lose, that could mean losing your business as well as your STAR certification. Anytime a SMOG shop owner receives a Bureau of Automotive Repair letter, it can feel like a high stakes game. Maybe the claim doesn't fit with what your auto technicians have told you. Maybe you've had stellar STAR scores throughout the years and believe it could turn the odds in your favor. We understand, you feel lucky. Sorry, but luck has nothing to do with fighting the Bureau of Automotive Repair in court, skill and experience does. Our defense lawyers are professional players in actions against the Bureau of Automotive Repair. Understanding the rules and how they apply to your particular STAR citation can make the difference in court.
If you receive a Bureau of Automotive Repair letter, don't risk losing a mechanic's license because you believe yours is the "better hand." It's a gamble to go to court alone because California's BAR always plays to win. Instead, contact our professional auto defense lawyers to be at the table with you.