Real leadership normally begins at an early age. If you were a Girl or Boy Scout and moved up the ranks, you know that becoming the best takes plenty of effort and time.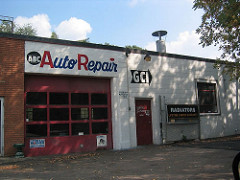 No one is allowed to move up until they have completed a series of tests and projects resulting in the required badges. One of the highest levels in Boy Scouts is the "Star Scout" where one has shown responsibility and community involvement. Star Scouts have moved passed their peers to achieve excellence in their scouting endeavors. They are considered the "elite" of the scouting world.
Okay, so maybe you weren't a Scout, but if you have a STAR program certified auto shop, the concept is understood. No one hands someone a STAR program certification without reason. Hours of training and testing has been completed. It may have taken plenty of late nights studying and personal sacrifice. The work pays off though. In the Boy Scout realm, Star Scouts become trusted leaders in their community. It also looks great on a resume and can open doors to better opportunities. Employers seek out good leaders with a proven track record. In the automotive realm, STAR certified technicians are a special group sought after by auto shops and SMOG stations.
Remember that a Bureau of Automotive Repair STAR Program Certification is a Badge of Honor to be Protected
If you have received a letter from California's Bureau of Automotive Repair, it's essential to remember the value of your STAR program certification. It is the heart and soul of a SMOG check business so don't take any accusations lightly. You wouldn't go out hiking into the desolation wilderness with just a spoon and a blanket (although that would make a pretty cool reality show). You'd want a highly-trained scout to lead the way. Don't try to fight a BAR accusation letter without taking an expert into court with you. Defense attorneys have also spent years training to be an elite group of auto defense attorneys. We know a STAR program certification is essential to your SMOG business. It's a big source of revenue and pride. Whether the Bureau of Automotive Repair has sent an accusation, citation or low FPR score letter, a defense attorney will know how to move ahead.
A STAR program station relies on their elite class of certified technicians to keep business running smoothly. If the Bureau of Automotive Repair has sent a letter about a STAR program certification, it's time to contact an auto defense attorney. It took years of training and testing to receive the honor, so don't give it up too easily!