San Francisco, CA – October 20, 2014
Automotive Defense Specialists, a top law firm specializing in Bureau of Automotive Repair litigation, is proud to announce that they have released their resource list on the Bureau of Automotive Repair STAR program report cards. The STAR program scores are released each quarter, and indicate which STAR program stations or Smog Check stations are in danger of losing their license. The release of the scores provokes much head-scratching among the Automotive Repair Dealer community.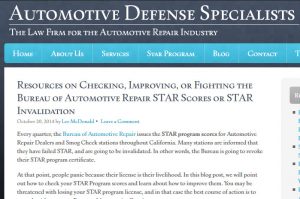 "The STAR program scores are generally released on a quarterly basis," explained William Ferreira of the Specialized Law Firm of Automotive Defense Specialists. "At that point we get many calls and inquiries from station owners seeking to understand how to check, improve or fight their scores. So we have updated our resource list, accordingly, due to the September STAR scores release."
To find the STAR program report card score resource list, please visit our STAR scores resource list at https://automotivedefense.com/?p=1339 There one can find a wealth of information on the STAR program and Smog check procedures, as well as information on how to check one's report card.
The STAR Program and Bureau of Automotive Repair
California's Bureau of Automotive Repair is the government agency charged with administering and enforcing the state's STAR program. As of January, 2013, all stations that wish to certify directed and gross-polluting vehicles (smog checks) must meet specific performance standards under the STAR Program. The new program was developed in response to AB 2289 (Eng, Chapter 258, Statutes of 2010). All participants thus receive a STAR program score, usually referred to as their STAR program report cards. Stations can check their scores online.
Some stations fail the tests, and receive notifications from the Bureau of Automotive Repair that they are in violation and in danger of losing their license to perform smog checks. At that point, owners and technicians must wade through difficult information explaining how the tests are performed, STAR program scores calculated, and issues involving failure or improvements to one's scores. The STAR program has been controversial since its inception.
About Automotive Repair Specialists
Automotive Repair Specialists is a top law firm representing auto repair facilities, smog check stations, and technicians in every facet of their legal needs including accusations from the Bureau of Auto Repair. The company offers free phone consultations to auto shops, mechanics, technicians and others who are facing disciplinary actions from the California Bureau of Automotive Repair.
Web. https://automotivedefense.com/
Tel. (415) 392-2886