Life is full of surprises. Sometimes they are nice surprises like finding out you are the 10,000th customer at a favorite restaurant and you get a free meal! Or maybe your friend just surprised you with seats near the 50-yard line to a 49ers game. Or yet another trip has given you a trip to Disneyland in Anaheim, California. Those are great and unexpected surprises.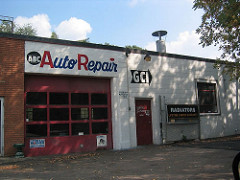 There are also the kind of shocks that happen only after you were going about your business to find out, things weren't what they seemed. Maybe you saw someone drop their wallet on the ground? Will you do the right thing and give it back? After you take action, a person pops out of nowhere with cameras at the ready. You had no idea! It can feel that way for a hard working auto technician managing a SMOG check station in California cities as diverse as Anaheim or Mountain View, Eureka or Needles. Indeed, sometimes our "friends" at the Bureau of Automotive Repair send out undercover cars when auto shops are unaware. They just go about their business treating the undercover vehicle like any other customer. Maybe later, a letter arrives and SURPRISE – you just received a STAR citation.
Don't get Startled by a Bureau of Automotive Repair Undercover Car
There's a difference between the wallet scenario and the BAR undercover car. When you return the wallet, it's obvious you did the right thing. When you get a SMOG citation, it's unclear exactly what went wrong. That's why we recommend any auto shop, SMOG shop or dealer who has received a Bureau of Automotive Repair letter to contact us first. No matter how well a skilled SMOG technician does their job, the Bureau of Automotive Repair may have some surprising arguments in Court. It takes a top auto defense attorney who understands all the little hidden devices a BAR undercover vehicle comes along with to trip up an unsuspecting mechanic. If you are the station owner, you cannot keep a technician on the staff if they have a STAR citation. It could be a sad surprise for them to hear they are out of a job. Instead, contact someone from our team. We have been called "auto shop lawyers" or "auto repair fraud lawyers," but we prefer to be called "auto defense attorneys." We can help clear up a misunderstanding with a Bureau of Automotive Repair undercover vehicle and keep your trained auto technicians employed. No surprises!